Jordan A. Roberts-Diem
I think if there were a single word that runs through my career and defines me, it would be empathy. I graduated college with degrees in special education and deaf studies and then started an animal rescue and community outreach program. Professionally, whether in my previous career as the Director of Human Resources for an assisted living facility, serving as a board member at J.J. Woofin' Paws Rescue Agency, or in my current position as a paralegal here at Van Oorschot Law Group, my desire to help people who are going through a difficult emotional time in their lives is what drives me.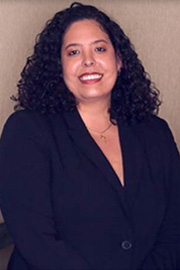 I am driven by my passion for working with people during difficult times in their lives. I chose to work with Marlo and her team because this firm is serious and handles complex litigation in a compassionate way. Also, the size of this firm allows us to handle our clients in a very personal and dedicated way. Our clients don't get shuffled around to a variety of lawyers but rather they build a very personal one on one bond with us throughout the process.
When I'm not working, I can be found at home taking care of 4 dogs, a cat and a husband. Why is that not surprising?